Read the interview about The Last Belle in Imagine magazine here.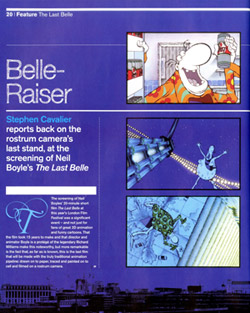 PRESS
"Lashings of dramatic irony and virtuoso slapstick."
Nick Bradshaw – Sight and Sound
"These 35,000 hand-drawn, hand-painted cels add up to a beautifully made, funny and bittersweet story which could possibly be described as the missing link between Chuck Jones and Richard Curtis."
Stephen Cavalier – Imagine Magazine
"This film is loaded with charm. Neil Boyle has created a wonderful film that entertains thoroughly as well as leaving a more appreciative audience with a reminder of what the craft of animation can achieve in terms of both film making accomplishment and technical perseverance."
Steve Henderson – Skwigly Animation Magazine
"To me, the real star of the short is its setting, London. The Tube stations, crowded DLR train , and drab buildings outside the city centre are all beautifully done and remarkably authentic."
Mike Bastoli – Big Screen Animation
"The Last Belle' has been fifteen years in the making. It has been a hard labour of love… and it has paid off. From the nightmarish descent into the London underground at night – a cerebral and painstakingly constructed sequence – to the precision of the musical score; never has the adage 'patience is a virtue' been more applicable."
WeAreHQ.com
"It's a real genuine gem of a little animated British comedy… It is just pure inventive pleasure from start to finish. If you can find a way to see it… go go go."
Nosferatoes blogspot
"A fun and topical masterpiece of animation."
News Cinema